IRIS/STAR Reporting
The IRIS MyGME module is utilized by finance personnel to gather and export IRIS information for the Medicare Cost Reports. Reports are automatically generated based on the demographic and rotation schedules reported by departments utilizing MyEvaluations.com residency management services. 
Create Master Rotation Schedules in real-time for the institution without re-entering the rotation assignments. These schedules are fully integrated with AMION/OnCall schedules.
Produce Medicare cost reports and IRIS export files, pulled directly from the block schedules
Import data for incoming residents from ERAS Residency Programs
Calculate FTE count reports that integrate rotation assignment and resident demographic information to determine correct FTE for each individual
Calculate meal tickets based on the call schedules
Produce satellite institution invoices automatically for resident services
Identify gaps and overlaps in rotation assignments
Global data access for GME Office and Designated Institutional Official. Program-by-program compliance reporting
Electronic Portfolios
Centralized data management for all data and documents. The institution, department and individual user may upload and track educational documents and material in real-time. Provide summary reports on performance as well as educational compliance.
Document uploading by individuals and the department
Summary compliance reporting
GME demographic management
Credential tracking over the course of training
Compliance with ACGME requirements
360° Evaluations
The Evaluations module provides tools to design, distribute and report on the performance of all personnel and rotations. The 360 degree system may be utilized by individual programs and the institution to automatically assign evaluations based on the block schedules for all members of the healthcare team.
Automatically generate evaluations for all personnel assigned to a rotation
Anonymous evaluations on rotations and peers
Extensive reporting and cross-analysis

Peer/Group and Departmental averages
Individual performance averages by competency
Minimum and maximum scores and Standard Deviation
Completion status reporting by department and institution

Electronic signatures and tracking verbal compliance for reviews
Automatic email reminders
Automatic EarlyWarning™ email notification on poor performance
Voluntary/Ad-hoc/On-the-fly evaluations individuals
Milestones Managements
MyEvaluations.com has implemented an advanced and intuitive system to manage Milestone, Entrustable Professional Activities, and Curricular Milestones.
Our patented competency-based evaluation system integrates new and existing evaluation data in order to streamline ACGME NAS reporting.
All rotation evaluations are tabulated and compared against benchmarks for each trainee, program and level of training.
Curricular Assessment Worksheets provide the director with one-click NAS reporting options.
Expert client service personnel help you develop a comprehensive learning management solution.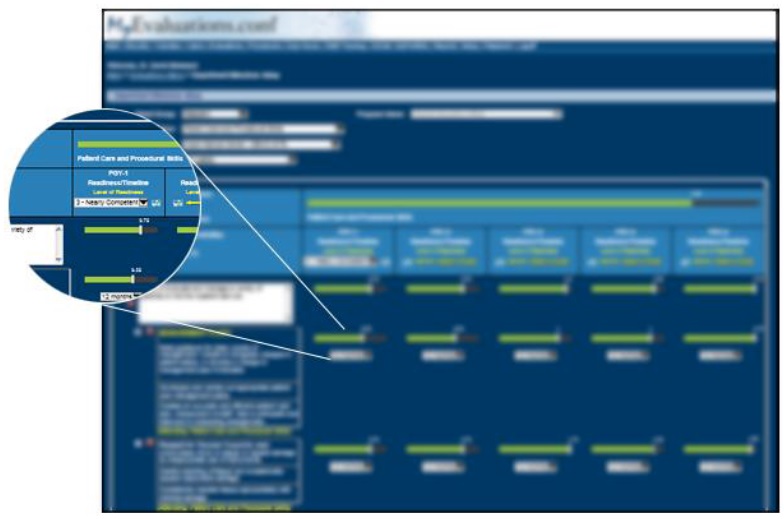 Schedule Integration
Seamless schedule integration makes your works easier. Use your existing schedules or utilize integrated schedules to automate:
Evaluation assignments specific to the rotation and training-Level.
Curriculum notifications with integrated goals & objectives, procedures, and patient log requirements.
Rotation-compliance reporting to monitor teaching and learning at the point of delivery.
Clinic Hour (Duty-Hours) management with data pre-population, processing, and verification.
IRIS/STAR reports and data exporting, Medicare cost reports, and institutional invoicing.
MyEvaluations provides seamless integration of the following schedule management services:
Additional schedule integration services are available upon request.
Curriculum Management
A variety of curriculum items may be uploaded into the trainees portfolio and associated with a specific rotation/block schedule. Trainees receive an automatic email notification to view the curriculum when the rotation begins. MyEvaluations.com will document when each item has been reviewed.
Ability to assign curriculum for a particular rotation
Ability to assign curriculum to trainees with special requirements
Automatic email reminders to view curriculum prior to the start of the rotation
Electronic verification upon review of the curriculum
Procedure Tracking
Trainees may log procedures from either the web or mobile interface support for Android and Apple iOS devices. MyEvaluations.com will track progress towards departmental goals, as well as forced certifications and revocation. All procedure data is centralized for nurses to review competence. Reports track supervisors, error and complications.
Submission by any Mobile Device or Web interface
Supervisors sign-off on completion with competence tracking
Automatic email notification to supervisors
Automatic credentialing or Manual verification by administrators
High quality video, step-by-step text and illustrations for top medical procedures
Fully searchable how-to instructions
Online training on indications, contraindications, anatomy, and equipment for procedures
Patient Log Tracking
Both the department and institution can tracks a history of each patient that a trainee has logged. Information can be reviewed by training level, diagnosis category, location, encounter type and more. Patient logs are linked between departments in order to provide a comprehensive history of each trainees medical education history.
All PHI (e.g. Patient Name) is stored and reported with HIPAA compliance
Patient information is accessible to personnel directly involved in the patient's care
Post-patient care evaluations for self-review and educational compliance
Integrated procedures and patient logs into a single interface
Reports by location, encounter type, diagnosis classification and more
Learning Assignments
Trainees may submit reading and summaries to track compliance with curriculum requirements.
Specify required text for reading
Self-reporting on reading documents
Submission of reading summaries
Integrated reporting
Conference Tracking
Administrators may track clinic and conference attendance by utilizing the web or PDA interface. Conference may be integrated with document handouts that are accessible to all personnel. Conference documents may be searched by topic, description and presenter. Both permanent and local speakers can be assigned to a conference . Administrators may report attendance electronically. Extensive reports provide for percentage attendance to required and optional conferences.
Submission by any Mobile Device or Web interface
Create reoccurring conference
Attach conference documents to the schedule
Reports by trainee and for entire department
Clinical Hours (Duty-Hours)
Track each trainees work hours via the web or PDA interface. Configure clinical Hour rules that are in compliance with the ACGME/RRC requirements. Clinical Hours are validated in real-time as the hours are submitted. Trainees can utilized a graphical interface for self-reporting work hours, or simply sign-off on their hours based on the block schedule. Violations are reported to the department administrators for immediate identification. Violation reports are accessible by the trainee, department and institution.
Automatic email notification of violations
Graphical interface for self-reporting clinical hours
Configure rules for each department
Full integration with schedules
Clinic and conference attendance integrated into clinical hours and IRIS reporting
Reports by trainee and for entire department
CME Tracking
Comprehensive CME (Continuing Medical Education) management systems for generating event-specific evaluations, tracking CME credits, generating CME certificates, and direct data communication to the ACCME (Accreditation Counsel for Continuing Medical Education).
Simply your CME management process. We offer CME solutions that meet the needs of both small and large organizations. You may implement the standard CME Services below and have the option to upgrade to the CME+ Portal for more functionalities.
CME Services
Design Streamlined CME Evaluations
Generate automatic e-mail reminders to complete evaluations
Track event topics and locations
Customized learning objectives
Self-check-in for events using QR code and attestation
Setup and manage a durable CME library for ad-hoc learning
Implement videos, handouts, and quizzes tied to CME events
Detailed and summary attendance reports
Generate CME certificates in real-time after completing and submitting evaluations
Web portal and mobile application for iOS and Android
CME+ Portal
All the CME Services outlined above
Integration with the ACCME's PARS
Direct communication of CME details to the ACCME
Manage Maintenance of Certification for various Boards
Event registration with option to collect registration fee
Integrate both your organization's providers and community physicians
Track income and expenses associated with each event
Generate CME related financial statements
Demonstration & Pricing
Please send an email (Sales@MyEvaluations.com) or contact our sales office (866) 422-0554. A representative will answer and address your questions and arrange for a complete demonstration.
Service and Support
Administrative Support is available 365/24/7. Everything from a username and password reminder or to address critical application issues. We have a representative who can answer questions as well as specific institutional needs.
We provide an on-time service window of 3-hours for critical issues and 24-hours for non-critical issues and general questions. If the issue requires a call back then a support representative will call the administrator to help resolve the issue.
Mobile App
MyEvaluations.com provides full support for all Apple iOS and Android mobile devices.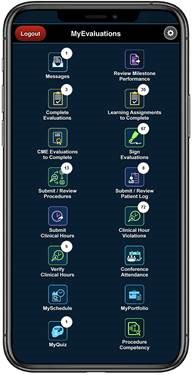 Use our mobile app to access the following modules:
Access with Face ID, Touch ID, or Fingerprint or Username
Access with Institutional Single Sign-On Access
Evaluation Completion, Review, and Sign-Off
Milestone Performance and Progression Review
Clinical Work Hour (Duty-Hour) Submission, Review, and Verification
View Calendar, Conferences, and Work Schedules
Procedure Logging, Review, and Verification
Procedure Competency Reporting
Patient Logging and Review
Conference Attending Tracking
CME Attendance, Evaluation, and Certificate Management
Learning Assignments Submission and Review
Quiz Submission and Review
Electronic Portfolio
Messaging
Push Notifications
Download the MyEvaluations mobile app from the application store: